Hypnosis Trainings in Geneva
A.R.C.H.E. Hypnosis Switzerland offers training in French for beginners as well as for already certified practitioners wishing to develop their hypnosis practice. 
As an International School, it also offers courses in English starting in September 2021 : Introduction to Hypnosis, Technician 1, 2, and 3.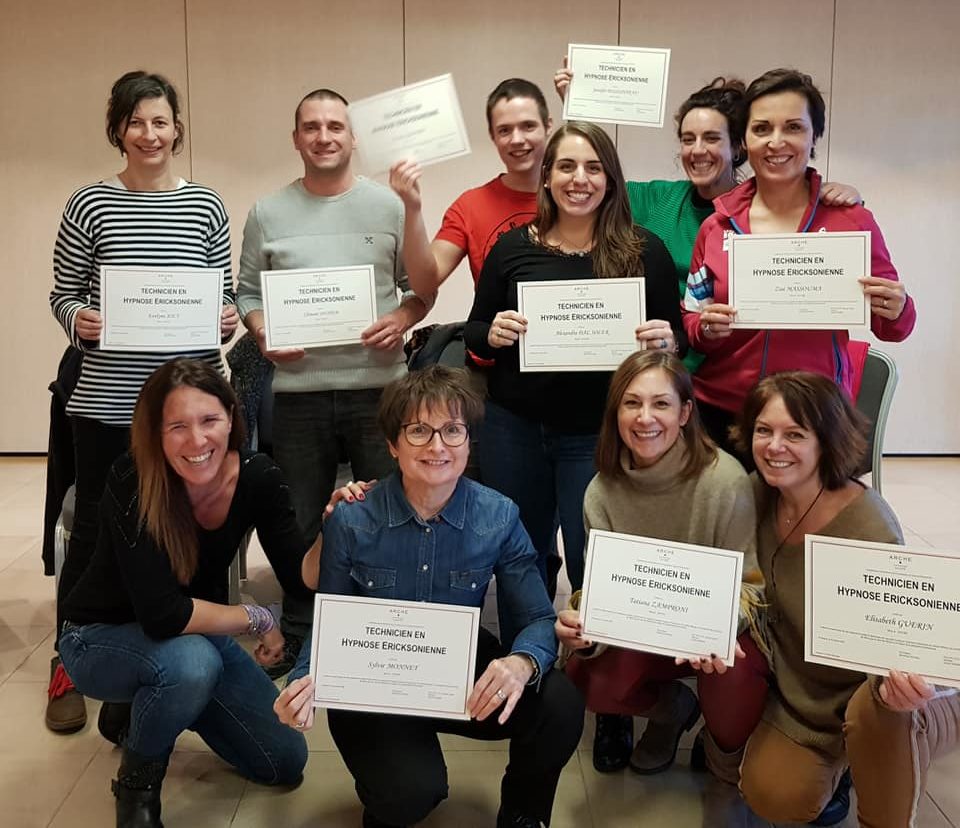 Course Cycle 1
Become a Hypnosis Practitioner in 30 days


YOUR GIFT

:

12 additional days of continuing education for our students
Course Cycle 2
Become a Hypnosis Master Practitioner in 39 days 
Development and specializations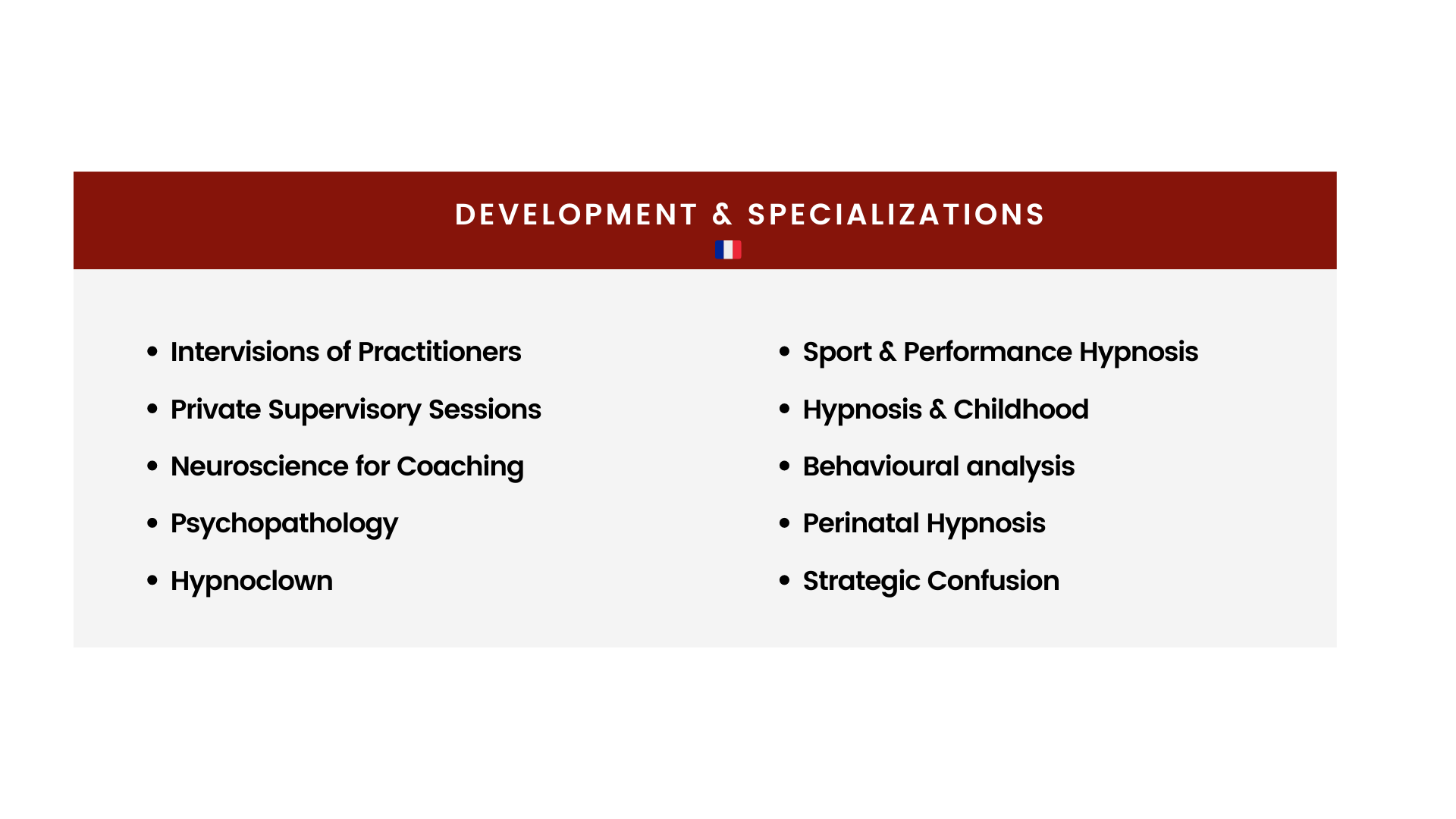 Become Hypnosis Practitioner
Hypnosis Technician
The Hypnosis Technician allows you to acquire the essential fundamentals to the understanding and technique of modern hypnosis, as well as the tools to gain a firm grasp of the various technical aspects of hypnosis. Upon completion, you will receive the Hypnosis Technician certificate.
Hypnosis Practitioner
The Hypnosis Practitioner allows you to develop a precise method of coaching, a good adaptability, in-depth hypnotic techniques, and your posture as a future hypnosis practitioner, while respecting a certain ethics. You will thus master the hypnotic processes, and be able to conduct fluid and profound sessions. At the end, you obtain the Hypnosis Practitioner certificate.
By the end of Cycle 1, you will know to...
Hypnosis Technician
Orient your communication towards the other person

Use the hypnotic levers

Use the hypnotic patterns

Prepare and conduct a session

Create various states of hypnosis, depending on the client and the objective

Working with emotions and understanding the first strategic aspects of hypnosis
Hypnosis Practitioner
Master more precise reading grids to adapt to human behaviour

Explore more complex unconscious mechanisms

Deepen the hypnotic states to create varied and intense experiences

Conduct full hypnosis sessions

Know the basics of strategic reading

Develop the posture of the practitioner
The hypnotherapists trained in our school share their experience
"I was pleasantly surprised"
I was pleasantly surprised by the differences from the approach I learnt in the previous school.
I really don't regret having chosen A.R.C.H.E. Hypnose Suisse for my second training. Thank you !
"My communication has improved!"
I didn't know that we could do so much with hypnosis!.
The format was perfect, not too much theory that knocks us out. You don't spend 3 hours on the same topic regardless of whether you really understood it or not.
Then practicing without being "sure" you're doing it right allows you to allow yourself to make mistakes, and to learn from any common or personal mistakes. I really like how the training is done!
My communication has improved with others but also with myself!
"A better interaction with our customers, our loved ones..."
As a communications person, I discovered that hypnosis offers a unique set of tools to better interact with our clients, our loved ones, and also with ourselves!
The training is so good that even those who are afraid to start or to make mistakes dare to practice and start the exercises without worrying about "doing everything right".  This approach helps us to grow faster!
CYCLE 2 : Become Hypnosis Master Practitioner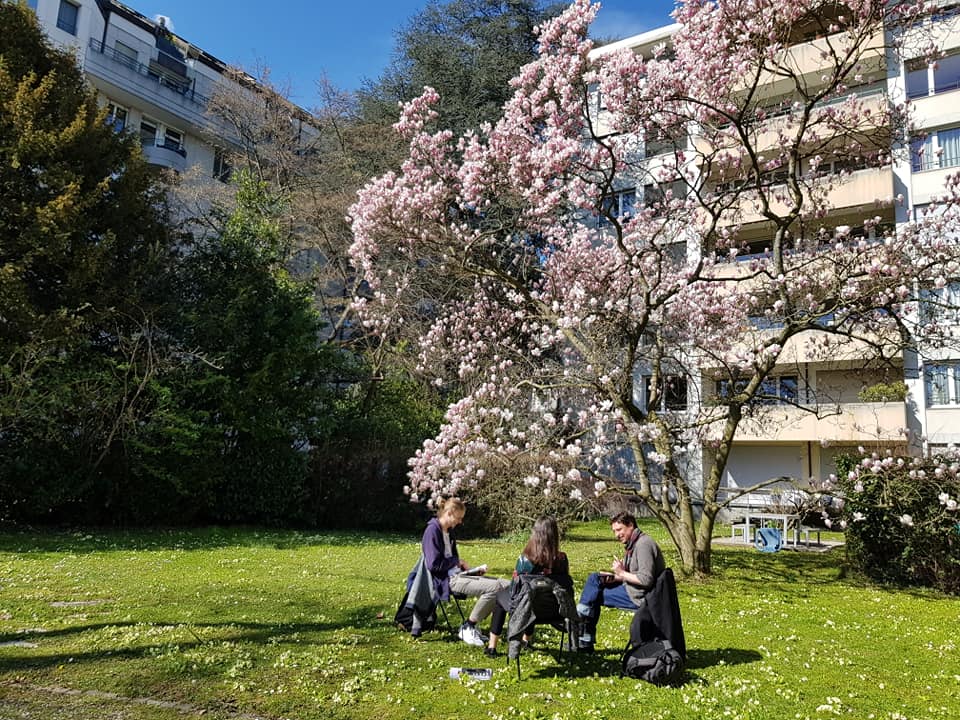 Hypnosis Master Practitioner
Cycle 2 consists of 4 trainings that allow you to acquire advanced tools to refine your practice, develop a coaching strategy, and have a better understanding of hypnosis and how the human being functions:
Conversational Hypnosis

Strategic & Systemic Hypnosis

Psychopathology 

Neuroscience for Coaching (online)
These 4 courses are independent and can be done separately.
Online training is also open to non-practitioners.
By the end of Cycle 2, you will know to...
Conversational Hypnosis
Get hypnotic effects without any formal induction

Refine the observation of non-verbal and para-verbal reactions
Expand your emotional and mental flexibility
Learn hypnotic communication tools

Address strategic principles
Strategic & Systemic Hypnosis
Manage resistance and counter-transference in a session

Build strategic visions over several sessions

Understand the construction of identity and the systemic issues of the person being coached.
Model the person and their problem in depth
Psychopathology
Develop a better understanding of your work, your possibilities of action and the strategies to use
Understand the organization of symptoms and the various psychic structures
Identify the borderline states and the functioning of the various types of psychoses
Be provided with the knowledge and tools to work in conjunction with health professionals
Neuroscience for Coaching
Develop a scientific perspective on your practice

Sharpen your support by better adapting to your clients

Understand the interrelation between body, emotions and mental representations

Develop a much deeper assessment of the content and structure of the client's communication
The hypnotherapists trained in our school share their experience
"It helped me improve my coaching sessions"
This training has helped me to improve my coaching sessions, because I allow myself to go further in questioning, with new frameworks of analysis.   
"It helped me to free myself, to dare even more, to trust myself."
This training helped me to free myself, to dare even more, to trust myself.
I was very touched by the simplicity of the trainer Jean Dupré.
"Enriching, both personally and professionally "
Strategic & Systemic Hypnosis is a very enriching training both personally and professionally.
The trainings are disruptive but in a good way!